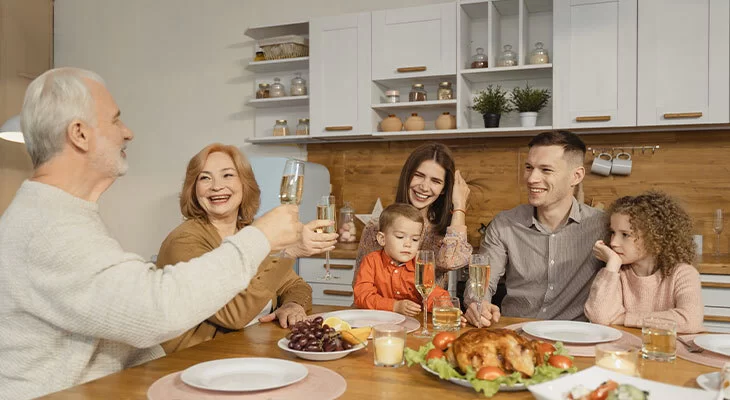 Thanksgiving is a wonderful holiday and for many reasons. It is a time to reflect on the blessings and positive aspects of our lives. It encourages people to express gratitude for what they have, which can contribute to a sense of contentment and well-being. It is also a time for family and friends to get together with all their loved ones, making it a special time to reconnect and share quality moments. This sense of togetherness can be heartwarming and create lasting memories. And of course, the food; the delicious and tasty dishes featuring the likes of turkey, stuffing, mashed potatoes, cranberry sauce, and pumpkin pie just to name a few! The shared preparation and enjoyment of these special dishes can also be a delightful experience for many as well.
As parents, we so look forward to sharing this holiday and celebrating with our children. Thanksgiving usually provides a day off work or school for many people, giving them a chance to relax, unwind, and take a break from their daily routines. This break can be a welcome opportunity to rest and recharge. But, if you have a child with autism, this may present itself a bit differently. Whatever the way in which the family celebrates the holiday, many parents of children with autism spectrum disorder might agree that the holiday may be stressful at times and can warrant certain adaptations to make it easier for children that are on the spectrum.
If your child has autism, they may have difficulty adapting to changes in their schedule. They often like routines, so any changes may be stressful and can be overwhelming for them. Additionally, if your child has sensory issues, they might get overwhelmed by the sensory experiences related to holidays. It is possible that sensory overload may occur from the loud noises that are often associated with large gatherings on Thanksgiving Day.
As well as sensory issues, your child may also experience discomfort when it comes to holiday smells – smells from a variety of foods being cooked and aromas intended to enhance the ambience of a home, such as candles or wax warmers, may also cause discomfort to children with autism or sensory impairments. You may also find that your child has difficulty trying new foods. Often, this is due to sensory issues related to the texture or taste of a food or to a fixed fixation on only eating certain foods. Additionally, numerous children on the spectrum may have varied diets, many of which are very restrictive.
Many parents expect their children to demonstrate a variety of social or communication skills during Thanksgiving, including greeting others as they arrive, making small talk with others, answering questions politely, waiting patiently, interacting with unknown relatives or relatives the child has not seen in a long time, being calm, and so on. Communication and social difficulties are among the core characteristics of autism, therefore children with autism may have difficulty interacting with other people, and this is particularly challenging when they are introduced to new people. With this in mind, you should be aware that your child may find the communication and social skills required during the holidays to be exhausting and difficult.
Taking the above into consideration, there are some tips/considerations that may help make the holiday run a bit smoother and a little less stressful. If you are planning on visiting family, friends or having a special time at home for Thanksgiving, planning ahead can be a key ingredient. While parents are unable to anticipate everything, taking the time in advance to check things off an organized list can help ensure that Thanksgiving runs without a hitch.
Some items to include on your checklist:
Plan ahead with your child: discuss with your child what the day may be like – i.e., who will be attending, what food choices may be available, what activities may be pursued and how long the event will last. Oftentimes knowing such details can make a big difference in alleviating any anxiety. If you are adventurous, develop a portable picture schedule to help your child know what to expect on Thanksgiving Day.
Plan ahead with family/friends: If extended family/friends are not regularly around your child, you may want to discuss what behaviors can be expected. This may also include situations that are difficult for your child such as loud noises, flashing lights, crowded rooms, etc. Discussing upfront will alleviate any anxiety on their part and yours.
Plan ahead with a good night's sleep: Make sure that your child has received adequate sleep. Poor sleep is a major contributing factor to behavioral and emotional issues.
Plan ahead with the menu: If you will be attending a party where you cannot control the menu, ensure your child has access to all their usual snacks, meals, and desserts – bring them along. There is nothing wrong with maintaining your child's regular routine. Consuming foods that they don't normally eat can be extremely stressful, so there is no need to push them. If you are hosting, keep expectations realistic with regards to their menu. You know best what they can and cannot eat, and when they should eat – stay the course! Consider planning the meal at a time that you usually have a meal. Maintaining routines and structure will be helpful.
Plan ahead for sensory overload: Be prepared to bring any sensory items that may be necessary such as noise blocking headphones, weighted blankets/vests, comfort items, electronics etc. They may come in handy! Identify a quiet room for your child to safely relax when the crowd and noise may become too overwhelming. Consider setting up a table of crafts that include sensory input that your child may engage with. This can alleviate some of the potential anxiety. Also, consider bringing some comfortable clothes to change into or have on hand, which could help alleviate any potential sensory distractions. If the weather permits, be prepared to step outside with your child if you sense a sensory overload. This will also help in these circumstances.
Plan ahead for proper monitoring: Thanksgiving can be a hectic event. While your child may not need constant supervision, it is important to check on them periodically. This can be done in a discreet way so as not to make the child uncomfortable and can present an opportunity to see how they are doing and to provide anything that would make them feel more at ease. You may also want to consider assigning an adult(s) to monitor your child for certain time intervals. This can ensure that your child always has proper supervision while giving everyone some time to relax.
Plan ahead for activities: If you are traveling somewhere for Thanksgiving, you might consider bringing specific activities to help your child pass the time. The activities you offer or provide to your child will depend on their interests.
Allowing your child to bring items related to their favorite topics or activities will help reduce challenging behaviors and alleviate any stress and anxiety.
The above list encompasses just a few items to consider. Thanksgiving is ultimately about family and togetherness. Try not to put too much pressure on yourself to make the day perfect. Keep the focus on having fun and spending quality time together rather than worrying about all the details! Happy Thanksgiving!!